When running an online business, you will have to decide which is the best and most cost-effective marketing strategy to use.
You have a choice between paid campaigns, organic search campaigns, and social media campaigns. Often email marketing campaigns are overlooked as they are seen as a very old marketing method and/or a spam tactic.
Even though email marketing has been around for many years, used correctly it's still one of the most valuable strategies you can use.
Building and gathering a good email list is more valuable than any type of paid or social campaigns specifically because you own your own data and it's a first step in building a successful email marketing strategy.
Building your email list with consumers that have opted-in to receive your updates allows you to share new offers, information and product updates to people who actually want to hear from you.
We are not talking about purchasing an email list and sending out a blast of emails, No, that is the spammy tactic you should definitely stay away from. We are talking about reaching out and sending value-based emails to subscribers who opted-in to receive them.
The following are our top 5 email strategies to not only build your email list but we will also cover how to increase your open rates and send out value-based emails that will allow you to pitch services and/or sell products to a highly targeted audience.
1. Exit Intent Popups
Popups, in general, have a really bad name and in most cases are bad from a UX point of view.
However, we are not talking about those nasty popups that appear as soon as a visitor enters your website. No.
Give your visitor time to browse throughout your site. Let them read and take in your service and product offerings first.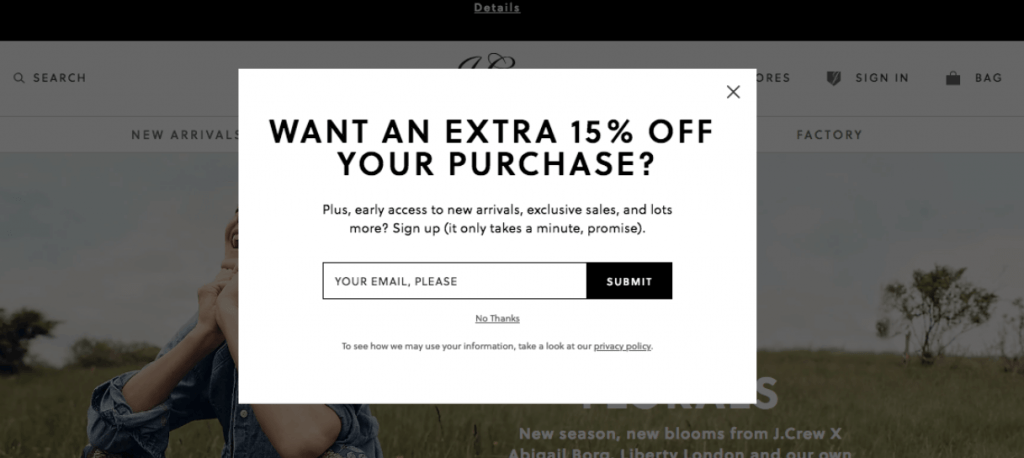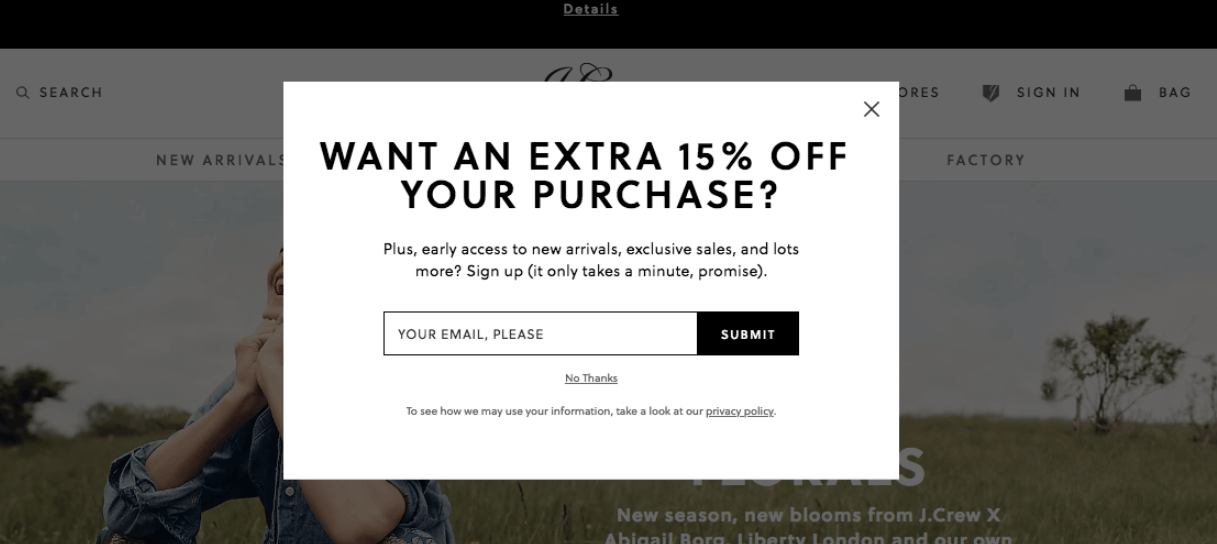 Then if they decide to navigate away from your site display an exit-intent popup. These types of popups can be dynamically programmed to only show when a visitor is navigating away from your site.
They can also display different types of messages within the popup depending on the settings you have configured.
As an example, if your user has entered from the Google search engine the exit-intent popup could be configured to display a discount offer in return for their name and email address.
Similarly, rather than offering a discount code you could offer one of your latest guides or a seat in a webinar in return for signing up.
The userproof website has an excellent article on the different types of popups you can utilise to build-up your email list in combination with stunning visuals.
2. Use Brand Ambassadors
Simply put, let your existing customers do the hard work for you. Utilise the reviews and recommendations from your existing user base to help you build trust and ultimately the number of subscribers in your email list.
You can use recommendations within your exit-intent popups or even the actual email you send out to your list if your pushing to get sales.
A recommendation by a consumer is often seen as the same as a recommendation that a family member or friend is giving. That can be an extremely powerful motivator for someone to take action.
Is your service or product recommended by an influencer? Then use that to capture even more email opt-ins from your website visitors.
Similarly creating your email campaign around your best reviews or social media shout-outs allows your email recipients to see what your peers have to say. This gives your claims much more credibility and authority rather than them simply taking your word for it!
3. Abandoned cart follow up emails
If your selling products online then a sure-fire way to increase your website's revenue is by using abandoned cart emails.
According to statistics, over 75% of online shoppers abandon their shopping cart for one reason or another.
There could be many reasons why your potential customer abandoned his/her shopping cart. Whilst you cannot address each issue what you can do is keep them reminded of a purchase they were intending to make.
An email reminder that includes a discount, additional offer or just even a friendly reminder to jog their memory that they have something left in their shopping cart is an excellent way to get them back to your online store.
Amazon has perfected this email strategy. When a customer adds an item to their checkout but doesn't complete the purchase, Amazon sends a friendly reminder after a few hours.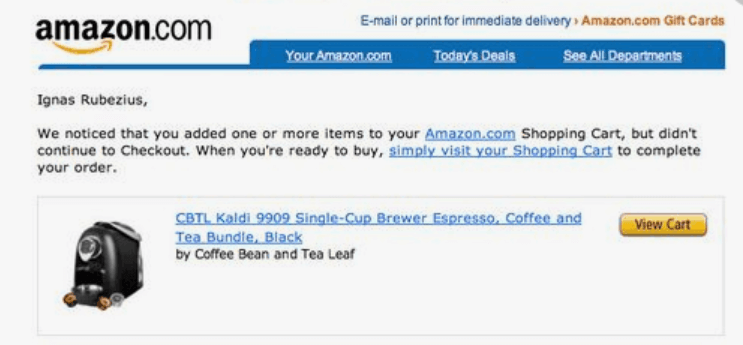 Using this method data shows that 60% of those shoppers returned to make a purchase because of the email reminder that was sent!
4. Add a Personal Touch
It's all well and good that you are building your email list and increasing the number of people signing up, but what use is it if they never open up the email you send?
Personalization is key. Many marketers only look at the contents of the email and whilst that is definitely a requirement, they miss out on 2 key factors. The from address and email subject line.
Consumers hate sales emails. If they see an email coming from sales @, they are less likely to open up the email. Even more so, that email will most likely end up in the spam folder rather than the inbox.
An email from a personalized email address of a real person not only has a higher chance of getting to a user's inbox but increases the chance of it being opened too. After all which email would you open? One from sales@ or one from john@.
Personalising the email subject line can also dramatically increase your open rates without which it doesn't matter how good your email content is you are never going to get your message across!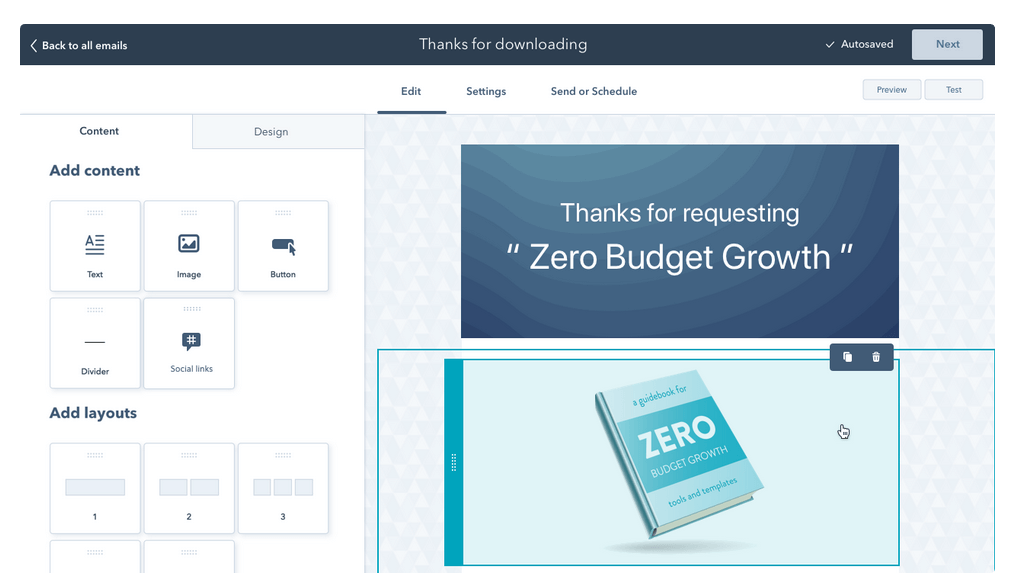 There are plenty of email marketing tools like Hubspot's free email marketing software which will allow you to add the name of the recipient into the subject line. Adding the subscribers first name into the email subject line can increase open rates by as much as 26%.
Finally, keep the subject line short and sweet. There is limited space for you to use here, up to 70 characters. Over half of all emails are opened up on mobile devices which in turn impacts the maximum number of characters of your subject line that can be shown.
A sweet spot for the number of characters of your subject line is between 35-40 characters. This ensures you get good open rates from not only mobile but desktop devices too.
5. Mobile-Friendly Emails.
As we have already said, 50% of your emails are opened on mobile devices so whilst having a mobile-friendly website is important so is having a mobile-friendly email campaign.
Your email needs to look good in no matter what device type that its read on. Whether that's a desktop device, a mobile phone or even a tablet.
One of the easiest ways to ensure that your email looks good across all devices is to have it in 1 column. You may already be familiar with that look and feel if you are on a MailChimp email list.
Emails created via MailChimp are mostly if not all of the time created using a 1 column template.
It allows you to quickly create emails that look good but carry your message forward to the end-user clearly. Less is more in this case.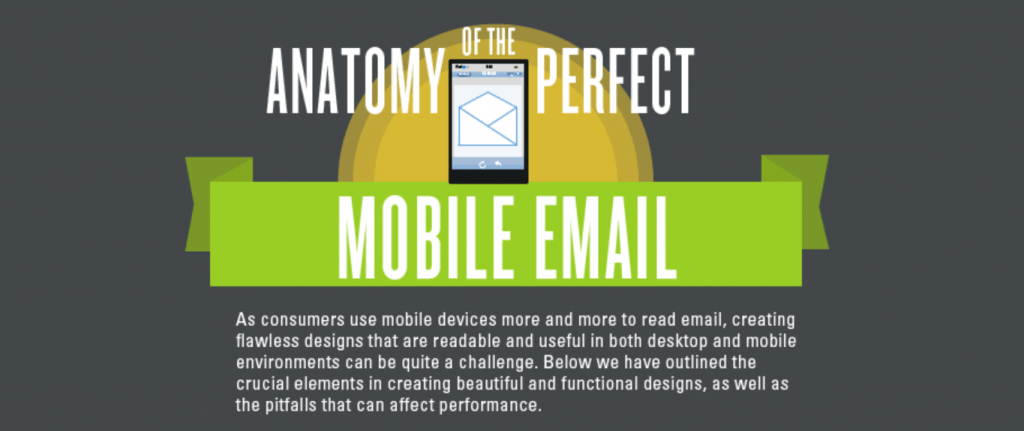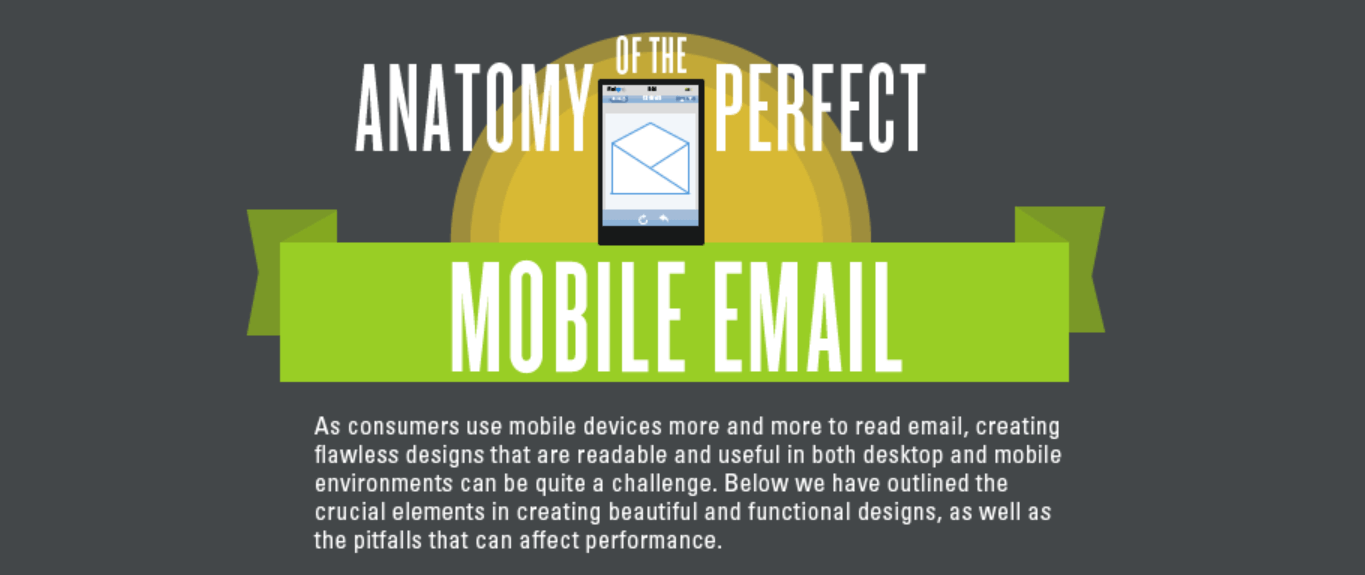 Litmus also has a great infographic showing the anatomy of a perfect email message. Some recommendations that they make are: having large fonts, clear call to action buttons, streamlining your content and cutting to the chase with your message.
Bonus Email Strategy Tips…
For those of you who are looking for even more tips on building your list. We recently came across this great resource for building your email list which has a further 15 ideas you can implement into your email strategy.
Our personal favourite from this list is the 'wheel of fortune' that could potentially work great with an ecommerce site. Not only will it keep your audience engaged but also help to build up your email list.
Wrapping Up…
Email marketing doesn't have to be a difficult task. Creating and implementing the right email strategy will ensure you always have a steady stream of subscribers.
Optimising your sending options and email creation process will not only ensure high open rates but email conversion rates too.
Now it's your turn. Have you used an email marketing strategy that's worked wonders for your business? Or has one of the above steps helped you in your email marketing efforts? Share your thoughts with us below.