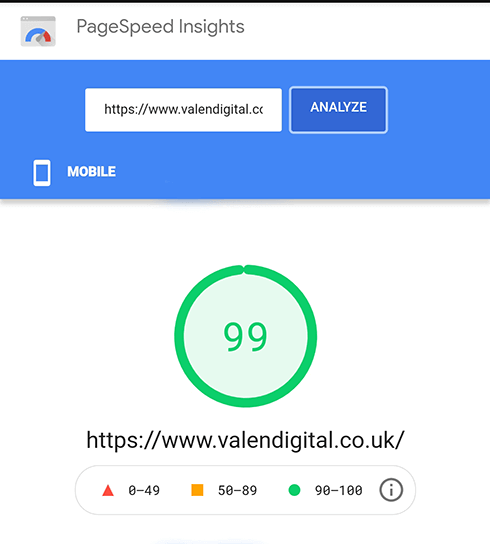 A Manchester Page SpeedCompany You Can Trust
Fixing page speed issues to please the new page experience ranking metric can be a very complex task. It needs real geeks to get up close and personal with your websites code. Not everyone can closely look at and identify code that can cause page speed issues. You need true experts. So, who are those experts that you can trust to fix your websites page speed optimisation issues?
We are those experts! Why? Well to put it simply we practice what we preach. Before we say we can fix your websites page speed manchester issues we make sure that our site SEO agency site gets great results. See for yourselves. We achieve at least 98/100 for our site. Our experience in website design and geekiness will help us to get brilliant page speed results for your website. The fixes we apply will allow you to forget about the page experience ranking update and let you focus on your business.
Need Geeks To Fix PageSpeed Issues? Get Started now →
Benefits of Our Page peed Optimisation Manchester Service
Unlike other page speed companies, the main benefit you will get from using our Manchester page speed optimisation service is that we will not remove the CSS and JS that provides core functionality to your website. Many of these extra functions like live chat, AI chatbots and even contact forms provide your site with core functionality. Our page speed optimisation manchester geeks understand that. Rather than removing those, we apply fixes. That not only keep them working as is but also pass Google's page speed test.
Fix Core Web Vital Issues Today
Get Started now →
Our Page Speed Manchester Company Helps With
Recent data shows that only 56% of websites pass the core web vitals test. That leaves a staggering 40% of websites that have page speed issues. Our experts help to fix page speed manchester issues, for many different types of websites. We help with normal HTML websites to WordPress sites up to ecommerce platforms like Magento. Regardless of the platform or framework, your website is built on. Our page speed optimisation Manchester geeks can tackle them all!
Fix Your Website Speed Issues
Get Started now →
Our Go-to Tools For Page Speed Optimisation
There are many page speed tools to benchmark and test your website. Many of these like WebPageTest and GTMetrix are great tools. But we tend to rely on and use Google's PageSpeed Insights tool the most. Why? well, it's the only one that combines real-world data into its test.
The others simply don't have the data to be able to give the most accurate results. We do use them to complement our main test(s) as they can uncover extra items that may need fixing. But our go-to tool is Google's PSI tool. A healthy site that passes page speed in Google's tool means one which passes the combined core web vitals test too.
Get Geeks To Help with PageSpeed
Get Started now →
Need to Talk?
If you want to succeed in fixing your core web vitals and any page speed Manchester issues, then get in touch today. We look forward to sharing our page speed optimisation Manchester expertise and knowledge with you.
Common FAQs About Core Web Vitals &
Page Speed Optimisation Manchester
Who applies the page speed Manchester fixes?

Only our page speed optimisation Manchester geeks will test and apply fixes for your page speed issues. A hand full of geeks in our page speed manchester team are the only ones who will have access to your sites. Unlike other companies and agencies, we don't outsource any of our work. It's all done in house 😎

How long does it take to fix core web vital issues?

Every website is different. Every page speed Manchester issue is different. What may take only a few days to fix on one website may take a good few weeks to fix on another website. It all depends on the platform/framework being used. Sometimes the web hosting can be an issue. We do all the required test to identify any bottlenecks and put unique fixes 🔧 in place.

Will my rankings increase by fixing page speed issues?

When the core web vitals / Page experience update comes into full swing in June 2021 then it will impact a lot of search results. Google is very tight-lipped about what impacts search results. They have confirmed that this will be a lightweight factor in its algorithm. Although it's only small, where it will help websites is when it's the only difference between the 2. Passing the Manchester page speed test will ensure your website is favoured above one that doesn't. From our testing, we have seen positive impacts in search impressions a website gains from passing manchester page speed optimisation tests. That's before the full Google update has even rolled out.

What admin access do you need to fix page speed issues?

We will need your websites admin access as well as FTP access to your site. In some cases, we may even need access to your web hosting account. Page speed optimisation Manchester issues can sometimes be very complex and fixes need to be applied in different places. It may be a simple case of updating your PHP version to use 7.4 or 8. For that change we will need access to your web hosting account. With so many moving parts it's difficult to tell what needs fixing and where.

What scores can I expect by fixing page speed optimisation Manchester issues?

Our speed experts aim for 90/100 and above. Generally, we can achieve scores of 95+. It all depends on how complex your website is and the different functionality being used. Depending on these factors our Manchester page speed optimisation scores can sometimes vary.

How long do page speed / core web vitals fixes stay in place?

The fixes should be permanent. But as with everything, they may need updating from time to time. Google does change the goalposts every so often. So, the fixes applied by our Manchester page speed optimisation experts may need further attention. We cannot guess what those changes will be BUT what we can do is apply fixes with best practices in mind. That, at the very least, ensures any future updates only have a small negative impact (if at all).

What is Google's Page Speed Insights (PSI tool)?

We think it's the best tool to test with and check your sites actual page speed is. It's the only tool that uses real-world data with a set of predefined checks. The PSI tool checks if a site passes the core web vitals and page speed test. Other tools only rely on pre-defined checks and that's all. Our page speed optimisation Manchester experts will test your site using all tools but focus heavily on the result given by Google's PSI.