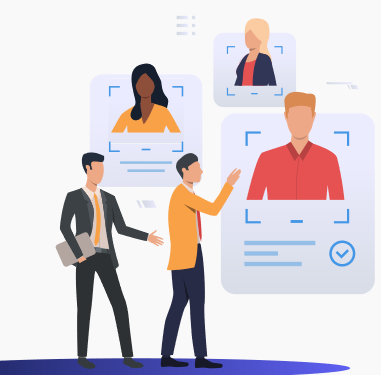 Generating new leads as an immigration lawyer is vital to ensure you can grow.
The problem is that it can be extremely complicated to put in place an effective marketing campaign. Not to mention maximising your budget to get quality leads.
Most (but not all) immigration lawyers don't have a clue where to start!
The online competition to generate new leads is fierce. This can result in immigration lawyers spending large amounts of money to reach potential new clients.
In this post, we are going to cover a cost-effective way for immigration lawyers to get new clients without overspending.
The goal is going to be to generate new clients by accurately targeting your potential clients using the Facebook Ad platform for the lowest possible cost.
We will answer some of the common questions in this post:
How to start creating your own Facebook Ads.
The best way to harness the power of Facebook ads as an immigration lawyer.
How to maximise your ad budget to encourage clicks and get leads.
You may well be asking: why should I use the Facebook ad platform? Well, simply because it's the fastest way for you to acquire new leads.
Sure, you can optimise your existing website. Launch organic SEO campaigns to leverage traffic from the search engines. But SEO is a long-term strategy.
SEO is progressive and it takes a while before rochdale SEO campaigns start to generate leads. Yes, it's a cheaper option in the long run compared to running ads.
But if you need to generate new clients right now then running an effective ad campaign is the way to go.
---
Why Facebook Ads and not Google Ads for Immigration Lawyer Leads?
---
In just over a decade Facebook has amassed over 2.4 billion active users worldwide with 1.5 billion being daily active users. It's a meeting place for all types of people including your potential clients.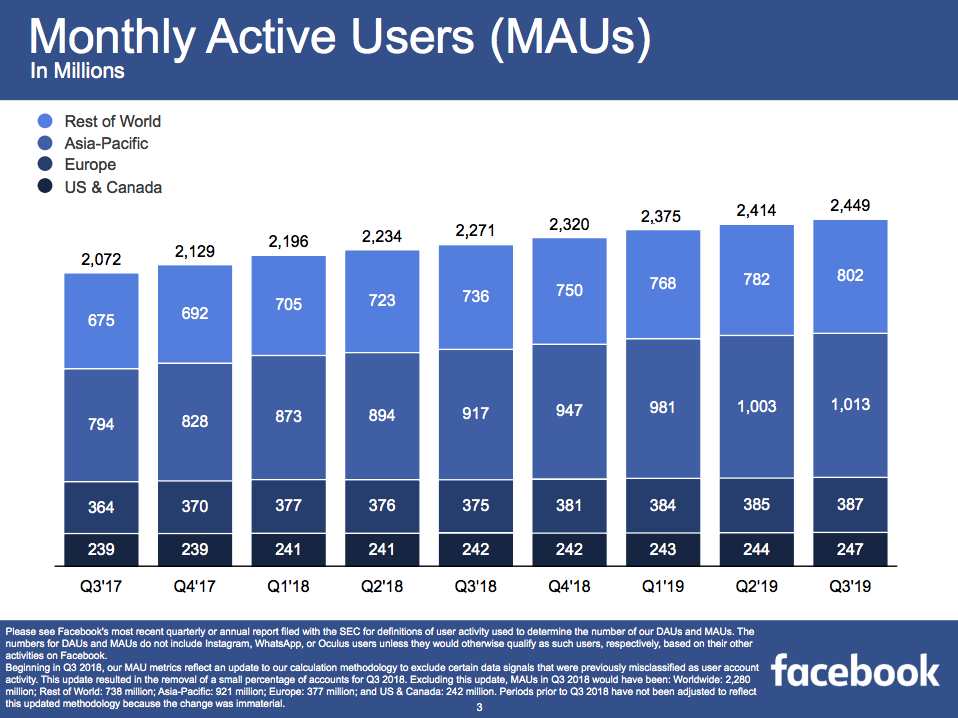 Facebook is a major part of people's lives.
It's no surprise then that businesses have flocked to Facebook to leverage the power of its Ad platform to be able to target relevant users for their own products and services.
Why not use Google Ads? Simply because Facebook Ads are cheaper!
Other reasons why Facebook is a more suitable ad platform:
Facebook's audience definitions and targeting tools are very precise.
The right campaign objective can have very high CTR and conversion rates.
Anyone with an internet connection can learn how to create Facebook Ads.
Simple setup procedure with fast results.
Unlike Google Ads, Facebook also allows you to create compelling Ads in a variety of ad formats. From compelling videos to the more standard ad formats.
Facebook has the most ad variety which will help your Ad to appeal to your target audience.
The following basic technique outlined can get you up and running with a simple Ad. This will start generating you new immigration clients.
So, let's get started.
---
Create your own Facebook Ads to Generate Immigration Lawyer Leads
---
The first thing you need to do is ensure you have a Facebook Ad manager account. This is different from your standard Facebook account/profile.
TIP: If you already have an Ad manager account then you simply need to login and can skip the following steps.
For those that are new to Facebook Ads then the very first step is to create an Ad business account.
You will need that account to start creating your Ads. Head over to this page to create your Facebook ad account.
There are a couple of things you need to do before you can start creating any campaigns and Ads:
You must be a manager of at least 1 Facebook page. If you don't have an existing Facebook page then there are few options available to you. You can request access to an existing page, claim a page and even create a new one.
You will need to give Facebook some extra information about your business. Fill out as much information as you can about your business.
Secondly, you will need to add in your billing details as a payment method which is required for your ads. Head over to the account settings > payment info tab to add this information in.
TIP: You can also set up your spending limits in this section. It will help greatly if you have a low budget and want to control your Ad spend.
Congratulations, your basic setup is now ready to go.
You can now start to create your new campaigns and Ads to generate new leads.
---
Creating an Immigration Lawyer Ad Campaign – The Objective
---
Before you start to create your new campaign make sure you have clear goals. There are many campaign objectives which Facebook provides you with:
Brand awareness
Reach
Traffic
Engagement
App installs
Video views
Lead generation
Conversions
Product catalogue sales
Store visits
The majority of business we speak to and help out get confused during this stage. It's a very important step as choosing a campaign objective will configure the campaign with certain settings and mark-up.
Changing campaign objectives at a later date could potentially have a negative impact which will result in more money being spent!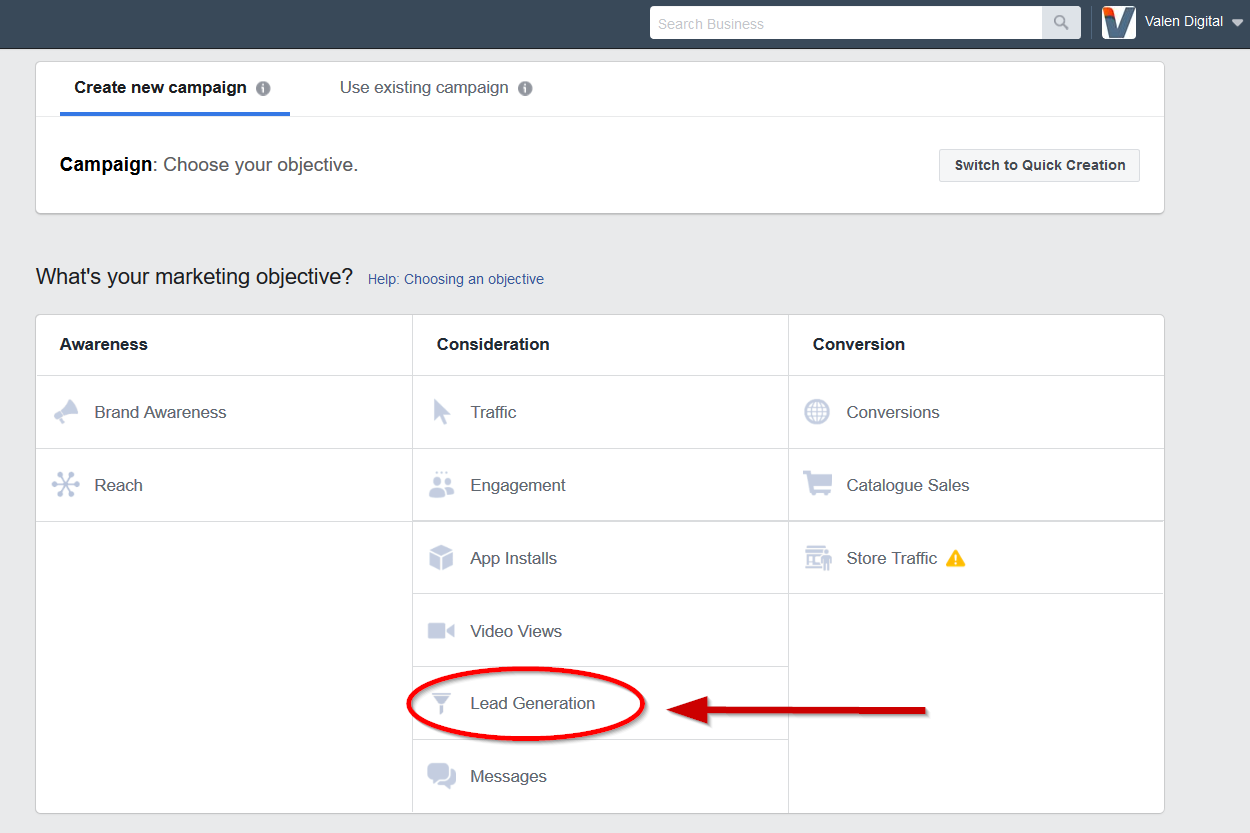 You can select any type of campaign objective and most of these will work pretty well with an Ad campaign for immigration lawyers.
However, for the purpose of this article and our goal to get new leads we are going to select: lead generation.
Before you can proceed onto the next step which is choosing your audience, selecting your ad placements and budget you will get a choice. To enable a/b split testing and campaign budget optimisation.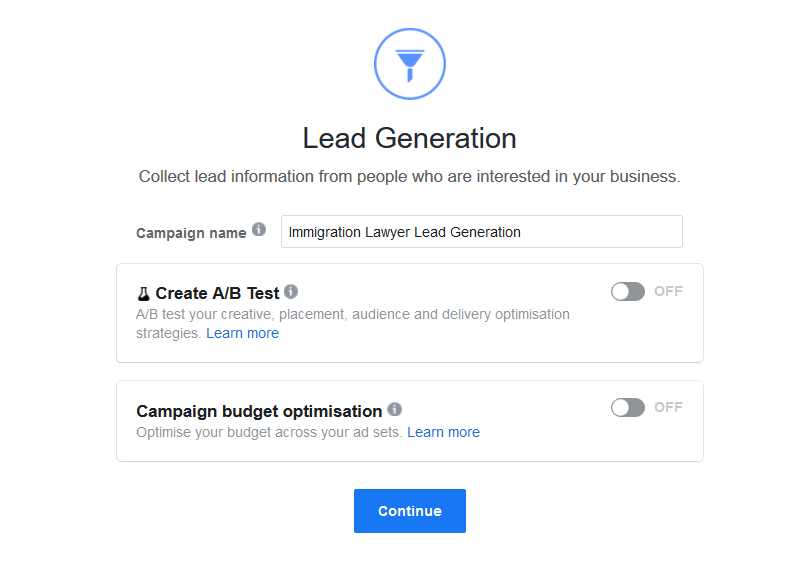 For the purpose of this article, you can click the continue button. If you want you can turn on the options as required.
The learn more links will provide you with more detailed information on what each option can do for you.
---
Creating an Immigration Lawyer Ad Set
---
Next is the ad set. Give your ad set a memorable name. This name will be used by Facebook in any reporting, insights and tips for the campaign.
After that, you will need to select a page for the campaign. Use an existing Immigration Lawyer page within this option.
TIP: You can select to create a new page here by clicking the + option. But we would recommend you create your new page before taking any of the above steps. It is much simpler and easier to do so.
When you select a page, you will be prompted to accept Facebooks lead Ads terms of service for that page.
You will not be able to proceed without accepting the terms.
Have a good read of the terms. Make sure you understand them as they will advise you of the lead ad requirements.
Once you have accepted the terms you will see:

Next up is choosing an audience. This is one of the most important sections when creating a Facebook Ad for any type of business.
You get many options here that will allow you to define and narrow down on your ideal target audience.
As you choose your audience options the graph and estimated daily results presented in the right bar will update: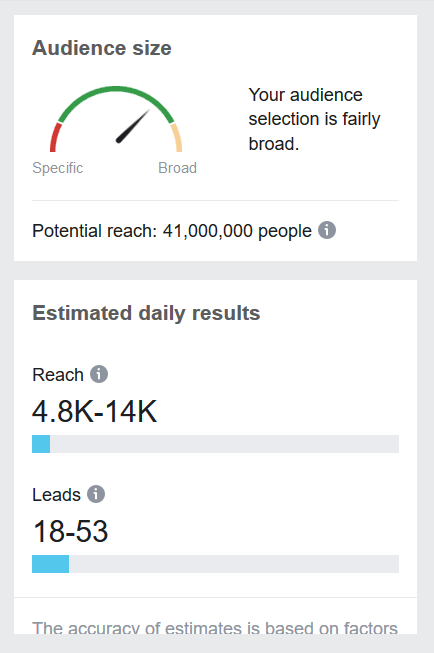 As you will see without any options selected the audience is pretty broad. You want the audience to be not too broad and not too specific. Aim to get the line somewhere in the middle.
Why? Well for one it will reduce the cost per lead. Secondly, the ad will be highly targeted and relevant to your ideal target market.
Choose a location to target your ads to a specific location. The more specific you are the better. We often see our clients targeting the whole world! You shouldn't be doing that.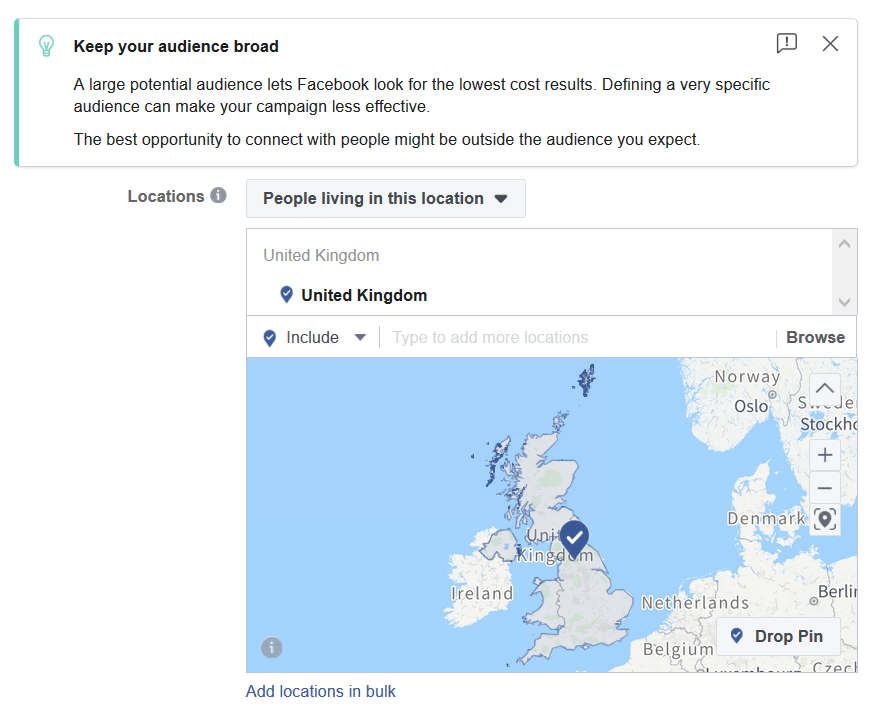 A very good option with this setting is that you can choose to exclude certain areas within a location.
So, in our example from above, we could exclude Northern Ireland if we wanted too.
You can also use the bulk upload option to import specific towns and cities or even postal codes.
The other options you have is to select an age bracket and gender to target.
Next is the detailed targeting option. This is a great setting for immigration lawyers to use. Yet again it allows you to hone in on your target audience.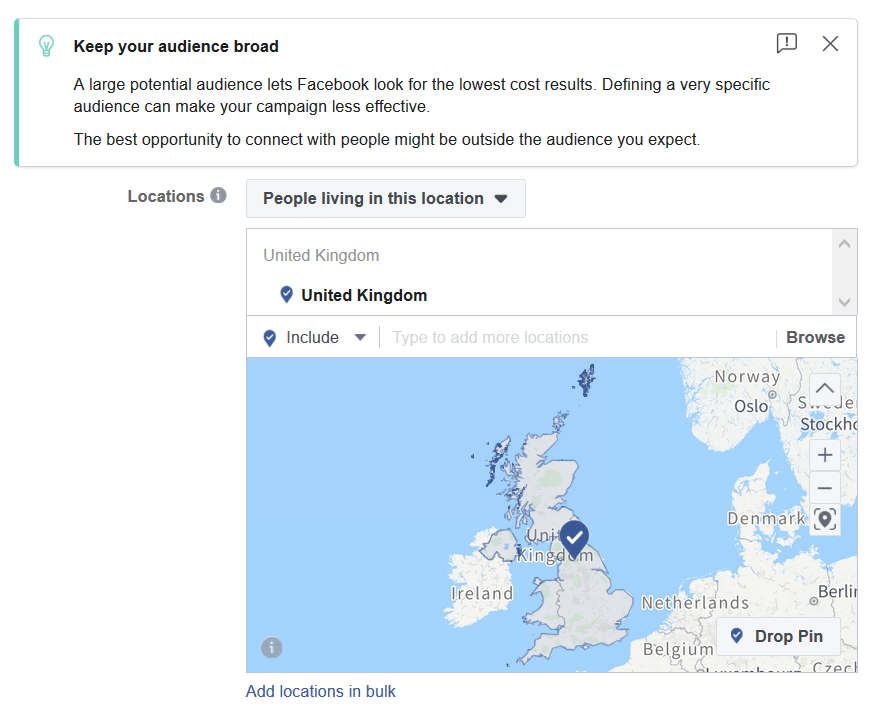 As you can see from the options we selected above, we are now targeting between the ages of 22 – 45 of all genders.
Most importantly we are going to be targeting our ads to those away from home or who have recently moved. We are also targeting ex-pats that used to live in Canada, France or India.
You can choose from a variety of options. The above options would be ideal for an immigration lawyer looking to provide their immigration services to those who recently moved to the UK.
The estimated results have now updated. Now it shows that we can potentially reach up to 9k people with an estimated 4-20 leads per day!
The next couple of options can be left as default:
Placements: where your ad will be displayed. Leave it as default (automatic placements by Facebook).
Budget and schedule: defaults to £20 per day and running ads all day.
---
Creating your Immigration Lawyer Ad
---
Next up is the fun part, creating the actual Ad!
You get a few options for the ad format. A carousel with multiple images/videos or a single image/video.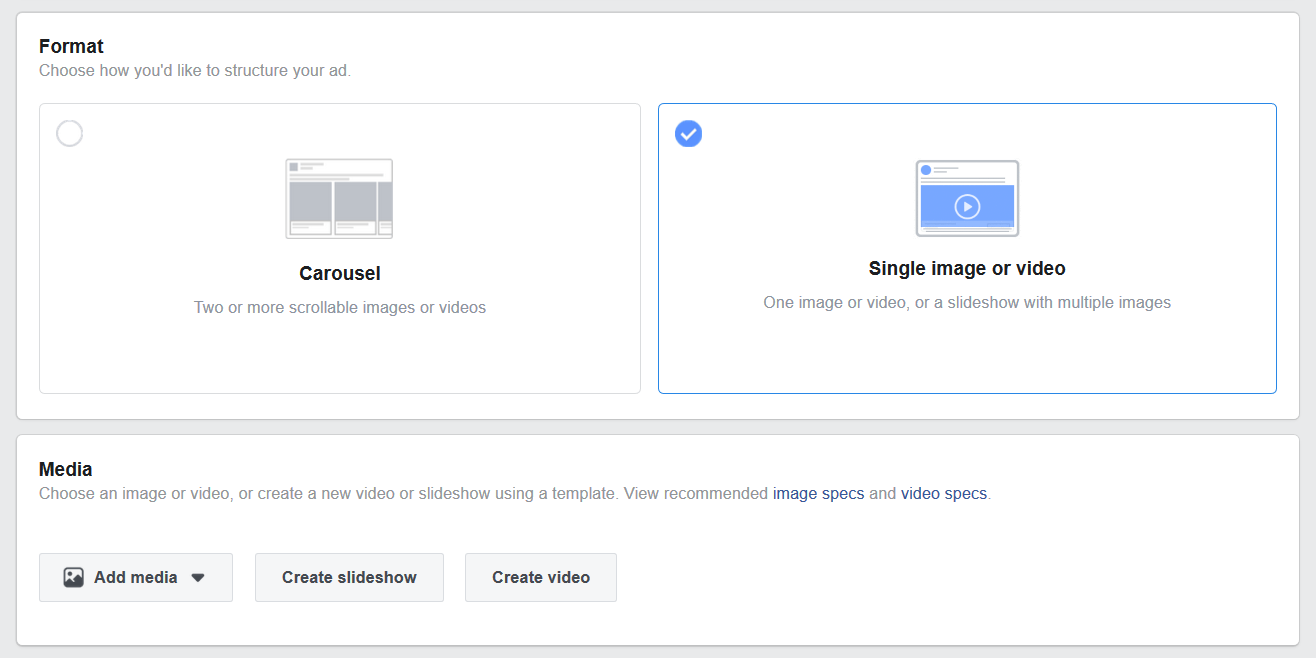 Typically, we use the single image option. It's easy to use and the created ad gets straight to the point.
You can select images from Facebook itself so it does save you having to creating optimised images yourself.
In some situations, we have also used a video. Videos have had a higher CTR but it will be dependant on the visual content resources and assets you have available.
Then choose your heading text and copy content. Keep it brief, to the point and relevant to your target audience.
Finally, you can choose a button. We prefer the apply now button as it indicates a specific action. It works well when trying to generate leads.
Here is the result of our ad copy: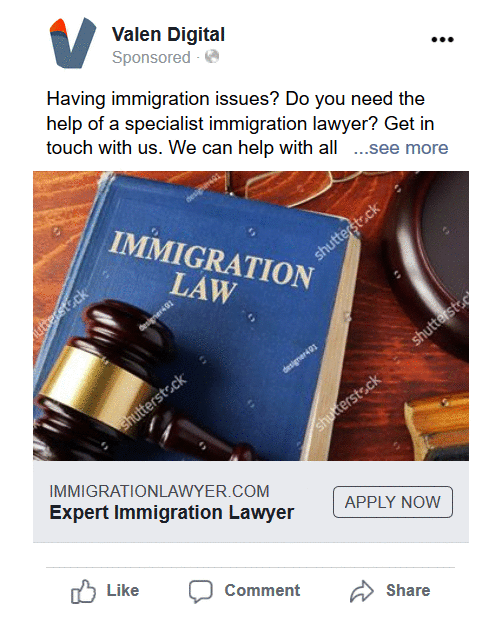 The last step you will need to take is to set up a form to collect lead details. As our campaign objective is lead generation our ad will not save and enable until a form is created.
When our ad is displayed, people who click the apply now button will be taken to a form. It is very easy to set this up.
Generally, you should stick to all the defaults. The things you should change are:
Questions Headline – its recommended to updated the default text to something more relevant to your ad copy and target audience.
Form Fields – more on this below
The default form is set to collect the name and email of a user automatically. This data is pulled in from the user's profile and pre-filled by Facebook.
You should add a new form field which is going to be the users' phone number. Again, as profile information exists within Facebook about the user it will pre-populate in the form.
PRO TIP: Keep your form simple. Don't add unnecessary fields into the form. Not only will it increase your lead cost but will result in lower CTR/conversions.
This is what you should end up with: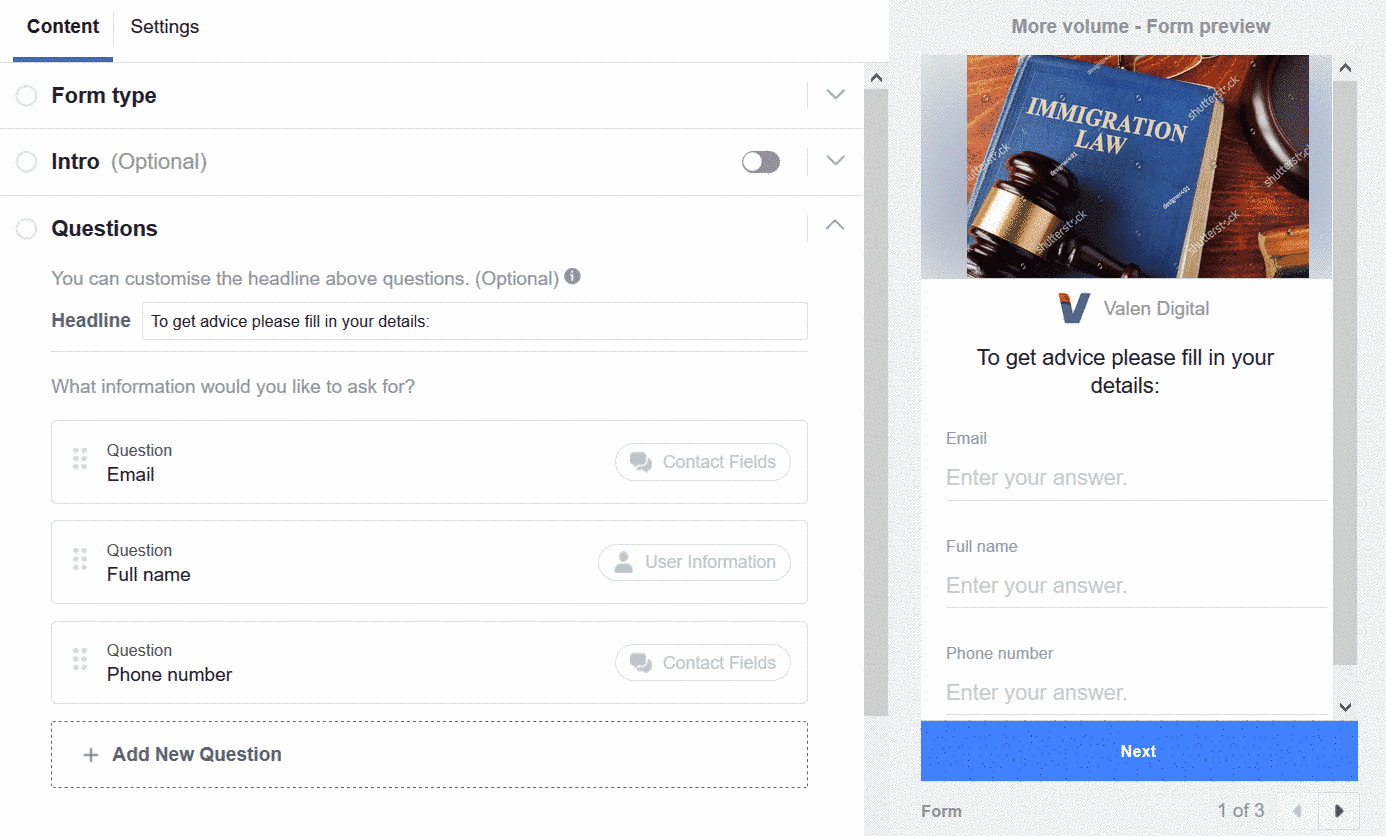 Finally, you can choose what happens after a user has submitted their details. Do you want them to go to your website? Call you? If you have a website then it's preferred to use those details within the thankyou settings.
You can use the call now option, but, be aware that if you have your ad running all the time then you could get calls in the middle of the night!
AND that's it.
Each time you get a new lead you will get a notification. Unfortunately it won't have the required lead data inside.
To get the actual lead information you will need to go to the page you created (outside of ads manager). Click on the publishing tools option and then forms library link on the left-hand side.
That will give you an option to download a CSV file with all your leads. It's not an ideal way of doing it but it is free.
---
Immigration Lawyer Leads Integration with a CRM
---
For those that don't want the hassle of going to Facebooks forms library URL and downloading a CSV file each time you receive a lead. You can automate the process.
Facebook allows you to integrate your CRM to capture all leads. So, you never have to download CSV files each time you get a new lead.

Your CRM will do all the hard work for you. A list of all the CRM's that work with Facebooks lead generation is listed here.
---
Wrapping Up…
---
You have now completed the basic steps required for a Facebook lead generation campaign to get new leads as an immigration lawyer.
Don't want to take these steps yourself? Confused? Or just want an expert with experience to set up and manage this process for you? Get in touch with us and see how we can help.
There are some advanced options that have been skipped out during this process. But none that will prevent you from running a campaign and acquiring new leads.
There you have it, a quick and simple way for an immigration lawyer to generate new leads. Let us know how you get on OR if you have any questions then let us know by leaving a comment 😊