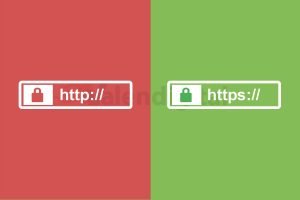 Today we are going to share with you how to implement SSL for your own website.
In 9 easy steps YOU will convert your existing website from HTTP to HTTPS.
The best part?
These simple and easy steps required shouldn't take you longer than 1 – 1 ½ hours to implement.
And in today's post you will learn why it's important for you take this step; how it will benefit your SEO and the step by step process we use to implement SSL.
If you want to skip all the important information and dive straight into the steps to implement your SSL then you can do so below.
SEO benefits of SSL implementation
If you didn't already know Google announced that having an SSL (HTTPS) website would be considered a SEO ranking signal from as long ago as 2014.
Reading "HTTPS as a ranking signal": http://t.co/nEjcGhm8bJ

— Matt Cutts (@mattcutts) August 7, 2014
Although this wouldn't be a significant boost to your websites ranking it is nevertheless a ranking signal and indicated that your website is trustworthy and secure.
Google's 1st page search results now contain more than 50% of websites that are on HTTPS and this figure is only growing. An analysis of 1 million Google search results conducted by Brain Dean in conjunction with SEMRush, Ahrefs, SimilarWeb and MarketMuse found that having an SSL enabled website is moderately correlated with higher search engine rankings.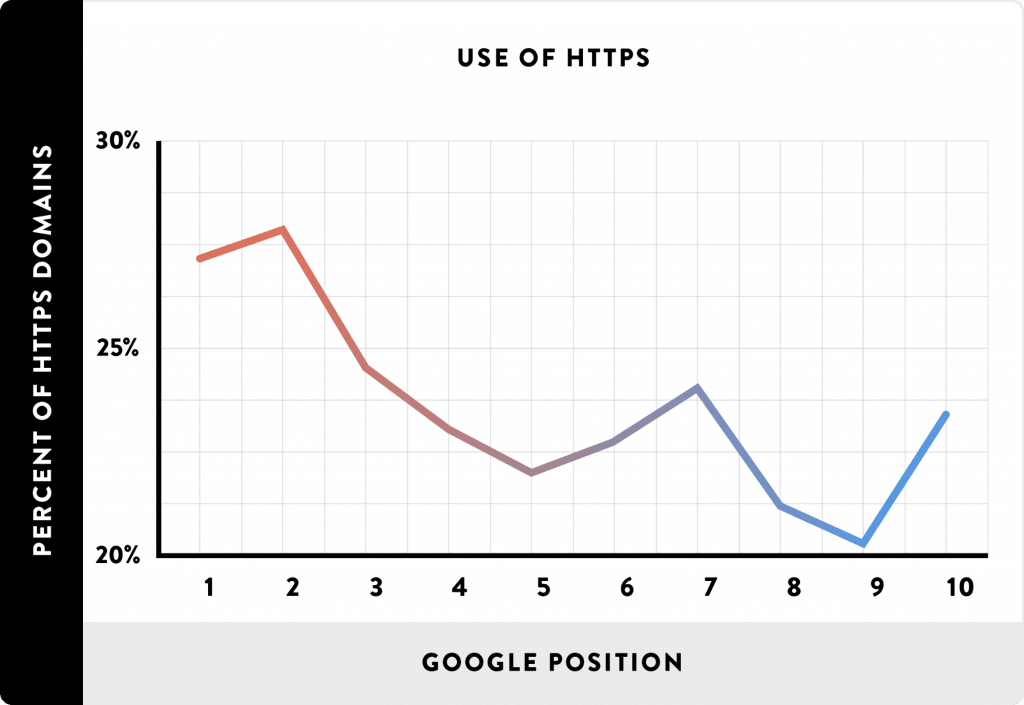 Another interesting blog post on SEMRush spoke to digital marketers from a range of industries and countries for their opinions.
Although they agree that it doesn't have a big impact on your websites rankings it does clearly show your site as trustworthy. It's worth a read to see what they have to say about HTTPS and the benefits it can give your organic search results.
Combine this with the fact that in January 2017 introductions of the new Firefox and Google chrome browsers are now show warning errors and an 'i' symbol in the address bar for HTTP websites that have any types of forms. Be it contact forms, signup forms, comment forms or anything of that nature, that don't use SSL.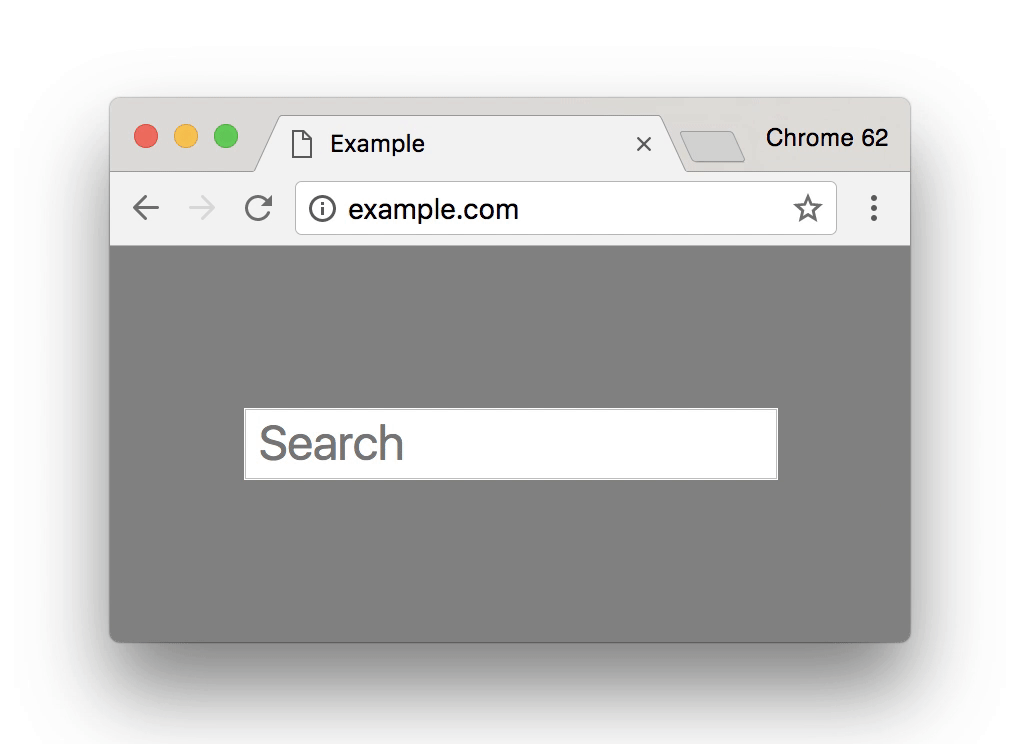 According to Sucuri a leading security website, Only a few months ago Google had actively started to blacklist non-https websites that contained any type of form.
Last month Google also started to send out notices for HTTP only sites that from Chrome browser version 56/62 any type of website with any kind of text input will require an SSL certificate to avoid any errors or 'not secure' labelling applied to their site in its browser.

It's become increasingly more important to ensure that you're seen as a secure and trustworthy website, thus implementing SSL is highly recommended.
What types of SSL certificates are there?
There are a different range of SSL (Secure Socket Layer) certificates available in the market ranging from £10 to £300+. The type of SSL you need will depend on your requirements. For example the validation type (more on this below) and do you need to secure multiple domains?
SSL certificates have different validation levels. The most basic of which are a domain validated SSL to extended validated SSL's.
Domain validated SSL certificates are the lowest level of certificate you can get. The certificate authority simply check's that the organisation applying for the certificate has authority over the domain in question.
Verification is generally done via email and to validate you have authority you can be (a) requested to upload a file to your domain or (b) update your DNS settings. Its relatively simple, doesn't require any human intervention and can take a few minutes to a couple of hours for the certificate to be issued.
Once installed, the browser will show the green padlock to users confirming that they have a secured HTTPS connection to your website.

Organization Validated SSL Certificates are similar to standard certificates with the exception that humans are involved. Although your organisation is not checked deeply, it is checked to verify that you are indeed an organisation.
The issued certificate will then show your organisation details in the certificate which may include your name, city and country. It generally takes a few days for this type of certificate to be issued.
As with the standard certificate once installed your users browsing your website will see the green padlock to confirm that there connection to your website is on a secured HTTPS connection.

Extended Validation Certificates are the strictest level of certificate that you can obtain. The certificate authority will validate and check the ownership, organisation information, physical location, and legal existence of your company.
Usually they will require documentation to verify the existence of your company by real human involvement. For this reason they are generally expensive and can take a few weeks to be issued.
Once issued however your users are greeted with not only a green padlock but a green address bar with your company's name in it. Also as per the organisation validated certificate your organisation details are also present within the certificate itself.

Securing multiple domains. If you have multiple domains i.e. sub domains to secure as part of your main domain then you will require a wild card SSL certificate. This is different to the above single domain SSL certificates.
You can secure unlimited domains with such a wild card certificate as show in the image below:

A disadvantage is that you cannot secure domains such as example.example.example.com. For this you will need an SAN Certificate which is also known as Unified SSL Certificates/Multi-Domain SSL.
You should decide before proceeding which is the most relevant for your website.
Where to get an SSL and what to look for and mistakes to avoid
There are plenty of providers that can supply you with an SSL certificate. Every hosting company gives you the ability to purchase a SSL. It may be as easy as going to your existing hosting provider to purchase your new SSL.
However many times the cost to purchase one is significantly higher than usual. After all they also have to make a profit, right?
Your hosting provider isn't the only one or option to get an SSL. There are many reputable SSL providers that can provide you with a new SSL at a fraction of the cost. A good website to start hunting for your perfect SSL is SSLShopper.
They are a good reputable review site giving you all the information required to make an informed choice. Providing you with reviews from other website owners and SSL comparisons can make it easy for you to decide which SSL to get.
SSL's are split into different categories for you, so you can view all the popular cheap SSL's or the EV SSL certificates. Look at the reviews to make an informed choice. It can cost as little as £10 for your new SSL per year.
One of things to watch out for is who the actual SSL issuer is. This is the underlying certificate authority who will issue you with the certificate.
There has been a huge battle going on behind the scenes with Google and Symantec for a couple of years now.
In March 2017 Google (and Mozilla the developers of the FireFox browser) announced that it would no longer be trusting certain certificate authority providers.
The whole point of an SSL is to provide you with security when browsing online so that it can protect your data from hackers and the like.
Google found that Symantec, one of the largest certificate authority's and providers of SSL certificates in the industry, miss-issued certificates!
Symantec root certificates power popular SSL brands such as: Norton, Thawte, RapidSSL and many more. As of April 2018 your website and more importantly any SSL issued by the effected brands will no longer be considered secure in Firefox or Chrome browsers.
Find out more how this could affect you or which brands are affected in this post here.
OK, now what you have been waiting for. The easy steps you can take to implement an SSL for your site.
A couple of caveats apply here.
We hope that you have made an informed choice of which SSL you are going to buy and are ready to take the steps to proceed.
We are assuming that you have web hosting and it's on the cPanel platform. This will allow you to easily request a CSR (more below) and install the certificate in a few steps. Many of the popular and decent hosting providers are using the industry standard cPanel platform that will allow you to manage all aspects of your web hosting from its admin interface.
If you are unable to install an SSL because you're on shared hosting and it doesn't give you that option then you should seriously consider moving providers.
We are also assuming that you have an existing website and its running wordpress. Although the steps relate mainly to a wordpress install it can be applied to a bog standard site (with a few small differences).
9 steps to implement SSL on your website
Step# 1: Generate a SSL CSR request
Firstly what we need to do is generate a CSR. This is a certificate signing request for your domain. Each domain needs to have a specific signature in order for you to obtain a SSL. That is unique to your domain and your domain alone.
So head over to your hosting control panel (cPanel hosting) and navigate to the security section.
There you will see the option for SSL/TLS. Click on that to go to the next screen.
Once there you will have four options. You want the 2nd option which is to generate Certificate Signing Requests (CSR). Once you click on that link it will take you to the CSR section to generate a unique key. It will look similar to below.
One of the most important parts of this page is the domain section. Generally an SSL can secure both the www and non-www version of your domain. This is however dependant on the SSL provider you have chosen.
We generally add in only the domain here. So it would be: example.co.uk without the www. That would be secured anyway. However IF you put in www.example.co.uk then the SSL would only secure the www version and not the non-www versions.
Be careful here to ensure you have chosen the correct variation correctly. If in doubt ask the question from your SSL providers support section or live help which is usually way quicker.
After that, fill out all the other information as requested. Again depending on the type of SSL you have gone for (standard/EV) this information will be used within the certificate itself.
That's it, simply click on the generate button and it will spit out a CSR which will look similar to this:
1

2

3

4

5

6

7

8

9

10

11

12

13

14

15

16

17

18

===

===

===

===

===

===

===

===

===

===

===

===

===

===

===

===

===

===

===

===

Certificate

Signing

Request

:

/

home

/

/

ssl

/

csrs

/

www_example_co_uk_9e3d1_1581b_5bfee6d2be6324cbf8c8ac52a059de76

.

csr

===

===

===

===

===

===

===

===

===

===

===

===

===

===

===

===

===

===

===

===

--

--

-

BEGIN

CERTIFICATE

REQUEST

--

--

-

MIIDFzCCAf8CAQAwgbYxEzARBgNVBAgMCkxhbmNhc2hpcmUxCzAJBgNVBAYTAkdC

MSYwJAYJKoZIhvcNAQkBFhdhZG1pbkBhbG9lLWhlcmJhbC5jby51azEeMBwGA1UE

+

BekOyV1jwvNVPMEYJwI9Noj3Xl8VzfXkCGuOBu3Do94

+

EAs6NtAyzwlMDLRRBQfBucZx1wj

SJT2JewEHhJ18daw8mqM6

+

N

/

auWApGlOIgDoH4PxGBrxscBjQmf8uzP2qOIMedpn

IKJxWBsCAwEAAaAbMBkGCSqGSIb3DQEJBzEMDApiYXJvbm5hbG9lMA0GCSqGSIb3

DQEBCwUAA4IBAQCdKwftLUrnFcDZh6VOIfmbxAg8hU8NSx8RQQANcTmsQDgVnTxx

wGqKF8cKK4a2RqK8HQhFXE5x694XxSvWJSYoOglpUThhMP2x47M3bEA10RWOMLvh

sUK

/

vUqq5PUcrddSM4zdYaT8N6FkB4krqgMeDbDGQd5fFwO43YcvHWAq2mCItQs

/

C0VRkyd2

+

9JGeFQVBiCSrZzLv7f6UBzuOnIGa

/

YDr

/

d7ut1NtC66E6CiHPUL

/

oYq

WJedO6ove

+

/

l6h5eXQ9BnUGaDrXtnzrtruaI6x6fEv3Q6C

+

m6EP8Ty8flOzqjwRK

MjPqUqr1Ab1vmjFclwvtsvhZJfC

/

scBUw6iT

--

--

-

END

CERTIFICATE

REQUEST

--

--

-

===

===

===

===

===

===

===

===

===

===

===

===

===

===

===

===

===

===

===

===
Copy your CSR code and keep this to hand. It will be saved on the server for your to use in step 3 buts it's better to keep it to hand just in case you need it. Open it in a notepad or notepad+ file ready to use should you need to.
Step #2: Buy your SSL
The next step is to use that code above and add it to the section requested when you are purchasing your SSL. Without this code you cannot proceed so make sure you have generated the correct signature and followed step 1 properly.
Step #4: Change WordPress URL settings
Login in to your wordpress admin section. Firstly turn off any cache plugins that you may have enabled. That will save you seeing any errors upon completing the next couple of steps.
Then navigate to your general settings. There you will have to 2 settings. One is the wordpress URL and the other is site URL:

Change those URL's protocols from HTTP to HTTPS and click save. This will most likely log you out of the admin section and back to the login page. Log back in and navigate back to the Settings > General page. Confirm that the settings have indeed changed.
You can also see if the settings have been updated via the browser address bar which should now have a green padlock in it.
Step #6: Check for insecure content errors
Now you should be using a good theme and if you are then you shouldn't have any error messages on the frontend of you site.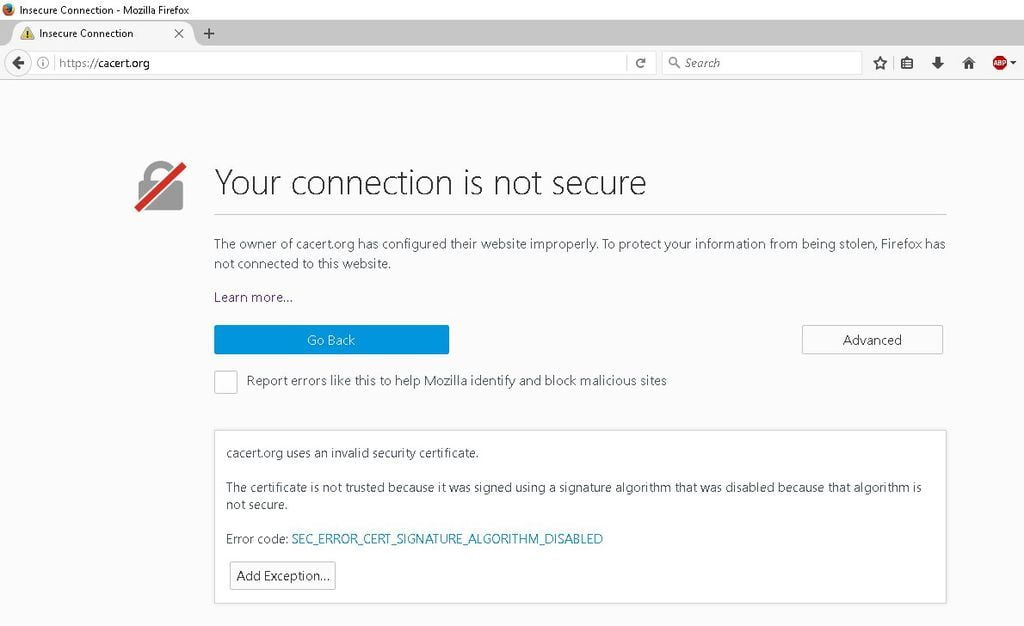 If you get insecure content messages or the browser padlock isn't green but crossed out this means that there are files being called by your site via HTTP and its usually image/CSS/JS files that are the culprits.
To find out which files may be causing the issue simply visit the website in the Firefox browser (if you get the insecure message click advanced and accept for now). Once the site has loaded click on the 'i' icon next to the padlock in the address bar.
This brings up a popup to show the connection details. Click on the arrow in that box and then more information link at the bottom of the next box.
The following pop up box opens up by default on the security tab. You want to select the 2nd option tab which is media files.
This will show you all the media files on your site. If you click on the address label you can toggle between the results.
What you're looking for is images that have the HTTP protocol. These are most likely inserted into your website page manually. So you will need to go to the page/post in wordpress and look for that image.
Once you have found it simply change the HTTP to HTTPS, or as we like to do, strip the HTTP/HTTPS altogether. Browsers are clever enough to apply the HTTP/HTTPS depending on if you do or don't use an SSL. This saves us a huge headache when developing websites locally for us!
For other types of content i.e. CSS/JS files these are more difficult to find. You could view the page source (CTRL + U in Firefox) and CTRL F to bring up the find box. Type in HTTP:// and it will show you all the elements called using hat protocol.
Once you have identified those you need to address them. Typically they exist in the header or footer php files of your theme.
If you don't want the kafuffle or its overwhelming for you to do this, then you can use this service which will find those files for you.
Again navigate to your wordpress admin section and from the menu select Appearance > Editor select the header.php file from the right hand side (ensure you are selecting the one from your current theme) this will then bring up that file.
Then it's a simple case of looking for any CSS/JS files that have the HTTP protocol and replace them.
TIP: rather than replacing the HTTP with HTTPS simply remove HTTP: (leave the //) as stated above the browsers can decide the protocol to use themselves.
Follow the same step for the footer.php file and don't forget to hit save for both files.
That should be it.
On some occasions it's not that simple. A poorly coded theme could have CSS/JS file calls within multiple files or the page builder you use with your theme like visual composer hard codes the links.
Our recommendation would be to get either your developer or theme publisher to resolve this. You don't want to break your site completely!
Failing that we can help you, get in touch with us today.
Step #8: Update Google Analytics
The final step is to make sure that Google analytics has your correct URL. You are using Google analytics right?
Head over to analytics and go to your admin section. Under your property (middle section) select the correct property (website) from the drop down and then click on the property section. There you will see an option for default URL. Simply toggle between HTTP to HTTPS.
Next go to the view section (last box) and make sure you have selected the correct view (you can also apply this to both view if required). If it's all setup properly you will have a minimum of 2 views.
One which has ALL your raw data unfiltered and untouched and another which has filtered data according to any filters and settings you may have applied. Click on the view settings link. Again as before simply toggle between HTTP to HTTPS and hit save.
That's it, you're all done. Everything should be purring like a sweet kitten now
Advanced SSL implementation tips
Those that are advanced users and want to further enhance the SSL implementation can follow the following steps.
Advanced Step #1: Apply http/2 protocol
At the time of writing (December 2017) many sites still use the HTTP/1 protocol on their website. It works but it's a very old protocol from the early days of the internet. It doesn't have any security issues or anything like that.
This step is more related to the speed aspect of implementing SSL.
Back in the days when we had very slow internet speeds having a site on SSL would make your website load slightly slower than if it was on bog standard HTTP. It did that additional round trip to navigate via the SSL route. That in today's age is negligible with the advent of fibre broadband etc.
However moving to HTTP/2 can give you an ever so slight speed increase. Given that the whole purpose of implementing SSL is to appease the Google search engine (and others) which is indirectly associated with the page speed of a site it does make sense to tick all the boxes. Doesn't it?
So implementing HTTP/2 can have that ever so small speed increase. However applying it is another matter.
It's only available with PHP7 and has to be system wide. There are plenty of topics on updating to PHP7 and adding in HTTP/2. We will have another, not so long, post coming soon about implementing HTTP/2.
So keep checking or subscribe to our RSS feed to get updated when it does arrive.
Conclusion
We implemented SSL for a big site back at the beginning of 2016 and kept an eye on the traffic.
Many other websites and even agencies migrating clients to SSL experienced a drop in traffic.
However if you followed all the steps carefully above you should see something like this:

The SSL migration we completed at the beginning of January 2016 for an ecommerce site had well over 100,000 URL's and migrating from HTTP to HTTPS we didn't lose any traffic at all. In fact because we added an EV SSL certificate and ensured we 301 redirected all the URL's properly the CTR and conversions actually increased. Job well done
We hope that this post has been helpful for you and allows you to easily implement your SSL. Feel free to ask any questions you have.
If for any reason you are hesitant in taking any steps or want a totally hands off approach, we can provide an SSL installation service for you. Get in touch with us to see how we can help.